Alive – is a series of growth experiments, where KOMBUTEX serves as a substrate or another life support medium for different organisms. Indoor environments represent a mix of trapped outdoor pollutants associated with traffic and industrial activities, as well as indoor contaminants.  We combine kombucha with moss, plants, or algae, which can absorb different substances and produce Oxygen at the same time. This way KOMBUTEX improves air quality.
Moss:
When moss is placed on treated bacterial cellulose, it continues to grow. Moss grows better on dried bacterial cellulose due to the moisture levels being too high when wet.
Seeds & plants:
Seeds/plants can only grow on treated bacterial cellulose that has been kept wet. However, a good water system is needed to keep the bacterial cellulose constantly wet, as it dries very fast when it's not submerged in liquids. By placing the seeds inside an incision made in the wet bacterial cellulose, roots are given the chance to grow vertically directly into the bacterial cellulose, resulting in a more stable and stronger plant.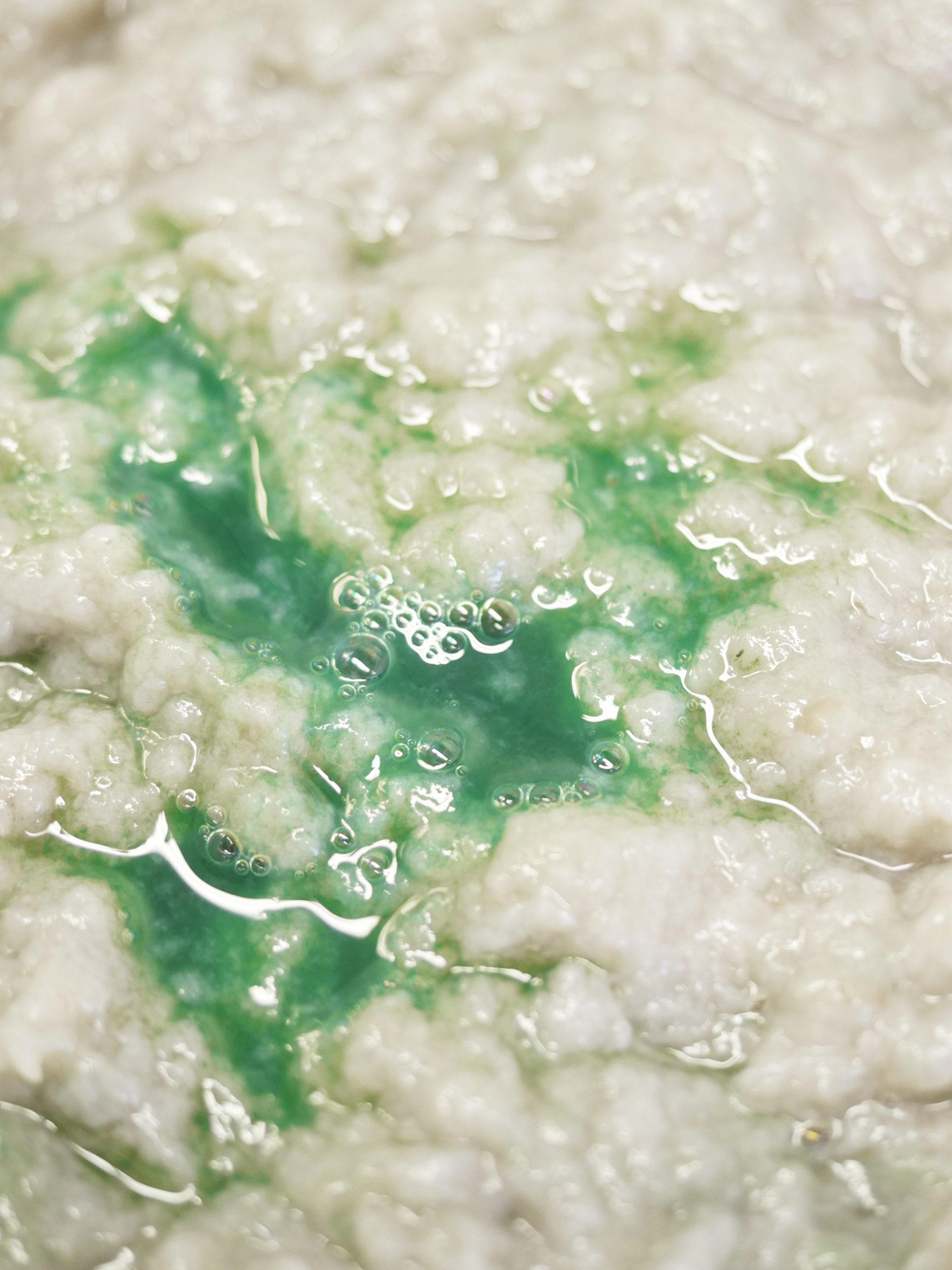 Spirulina:
Spirulina is able to grow on a treated bacterial cellulose. The best way to promote the photosynthesis of Spirulina is by using a circulation system where the culture fluid comes into contact with the air as much as possible. A sample with a circulation system was made where the culture fluid is pumped up to flow over the bacterial cellulose, creating circulation. Some spirulina cells are attached and started growing on the bacterial cellulose. However, after a few days the culture fluid had evaporated causing the Spirulina to die.
Spirulina-Fall concept:
During photosynthesis, Spirulina cleanses the air by absorbing NO2 and CO2 while producing oxygen. KOMBUTEX surface should optimize the photosynthesis of this algae, as the culture fluid needs to be as much into contact with air as possible. Due to the structure and texture of the bacterial cellulose, some Spirulina cells are attached to the material, resulting in interesting patterns.